Language
YOER Galaxo KM01S Planetary kitchen machine
Kitchen machine: max. power 2300 W, 2 engines, planetary movement, metal casing, quiet work 49dB, fluent rotations regulation, mixer, mixing paddle, beater, hook, blender, cutter, sausage attachment, impaling sausages, shaping cookies, 4 types of pasta and kebbe meatballs.
1989.00
-25%
1498.00
Lowest price in the last 30 days:
Order within
and we will send the package today

Shipping within

Shipment within 24 hours

Availability

Small

81

pcs.
| | |
| --- | --- |
| Bar code | |
| EAN | 5900779771604 |
Description

Instruction manuals
PLANETARNY ROBOT KUCHENNY YOER GALAXO KM01S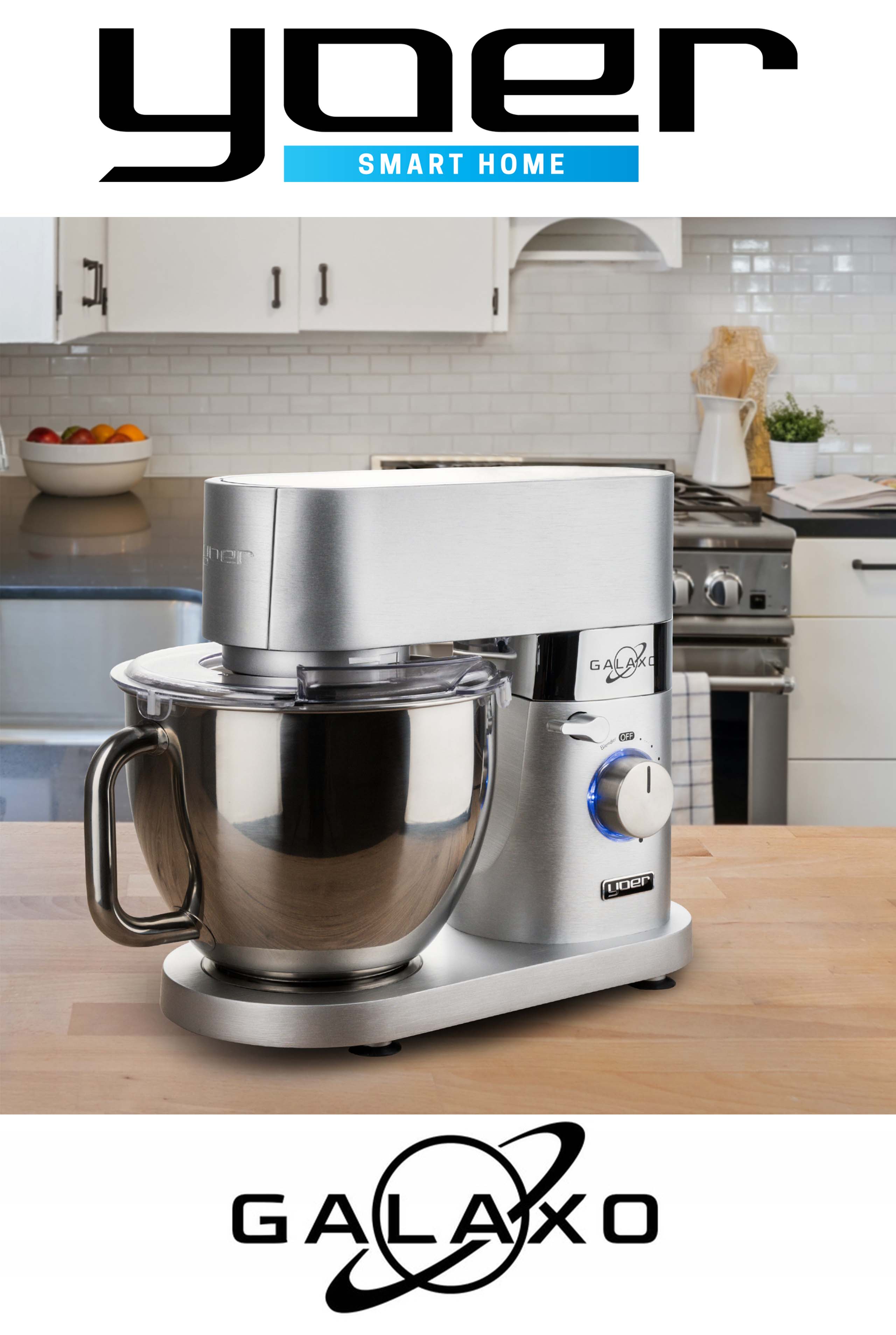 📝PRODUCT DETAILS
Multi-functional kitchen machine - mixer, cutting chamber and blender,
Planetary movement - multi-way mixing guarantees perfect connection of all the ingredients,
2300 W - max. power - prepare even the thickest dough without any problems,
1500 W - energy use - get an energy-efficient device
2 copper motors - enjoy increased effectiveness and unbeatable qulity of workmenship,
Quiet operation - prepare meals in peace,
Fluent rotations regulation - control the device operation in a convenient wa,
Metal casing - get a durable device,
Removable elements made of stainless steel which can be washed in a dishwasher - keep your accessories clean in an easy way,
Cutter - cut, chop or grate extremely fast your ingredient,
Jug blender - prepare delicious cocktails, soups, souces and drinks,
Bowl made of stainless steel - huge capacity will enable you to prepare huge amounts of meal,
Cover which secures against splaches - you do not have to worry about getting your bowl dirty during meals preparation,
Anti-slip feet - will ensure the stability of the device during its operation,
Protection from incorrect assembly - will help you assemble the accessories in a proper way,
Overheating protection - do not worry about damaging your device.
⚙CONSTRUCTION - MAIN COMPONENTS
Grinding chamber auger
Mixing element axle
Bowl cover
Bowl made of stainless steel
Non-slip feet
Blender chamber mout cover
Kitchen machine head lifting lever
Control knob
Kitchen machine body made of metal
ACCESSORIES
Blender lid
Blender cap
Blender base
Blender cutting blades
Attachment storage inside of the main pusher cover
Jug
Hopper tray
Cutting chamber
Main food pusher with attachment storage
Grinding chamber
Cutter food pusher
Mixing paddle
Cookie attachment
Coarse cutting plate
Medium cutting plate
Fine cutting plate
Cookie attachment mount
Pappardelle pasta attachment
Sausage and cookie attachment cutting plate
Cutting knife
Beater
Grinding chamber auger
Locking nut
Kebbe/kibbeh outlet port
Kebbe/kibbeh attachment
Sausage attachment
Rigatoni pasta attachment
Udon pasta attachment
Tagliatelle pasta attachment
Hook
Potato creaming grater
Shredding grater
Slicing grater
Bowl cover
Grinding/cutting chamber mount cover
Kitchen machine body
Bowl
Mount cover
STEEL GEARS, 2 COPPER MOTORS - INVESTMENT FOR YEARS
The device body - cast made completely of one-form metal
2 copper motors
Gears made of stainless steel
Elements to assembly - high quality metal
NEW GENERATION KITCHEN MACHINE
2300W of maximum power

the device is equipped with 2 huge motors which are responsible for effectiveness and increased productivity
a quarantee of kneading even the thickest dough without any problem.

Multi-way planetary movement

the mixing paddles rotate around their axises and around the bowl, on the model of the planets which rotates on their orbits
ensures much faster, precise and regular ingredients connecting.

15 minutes of non-stop work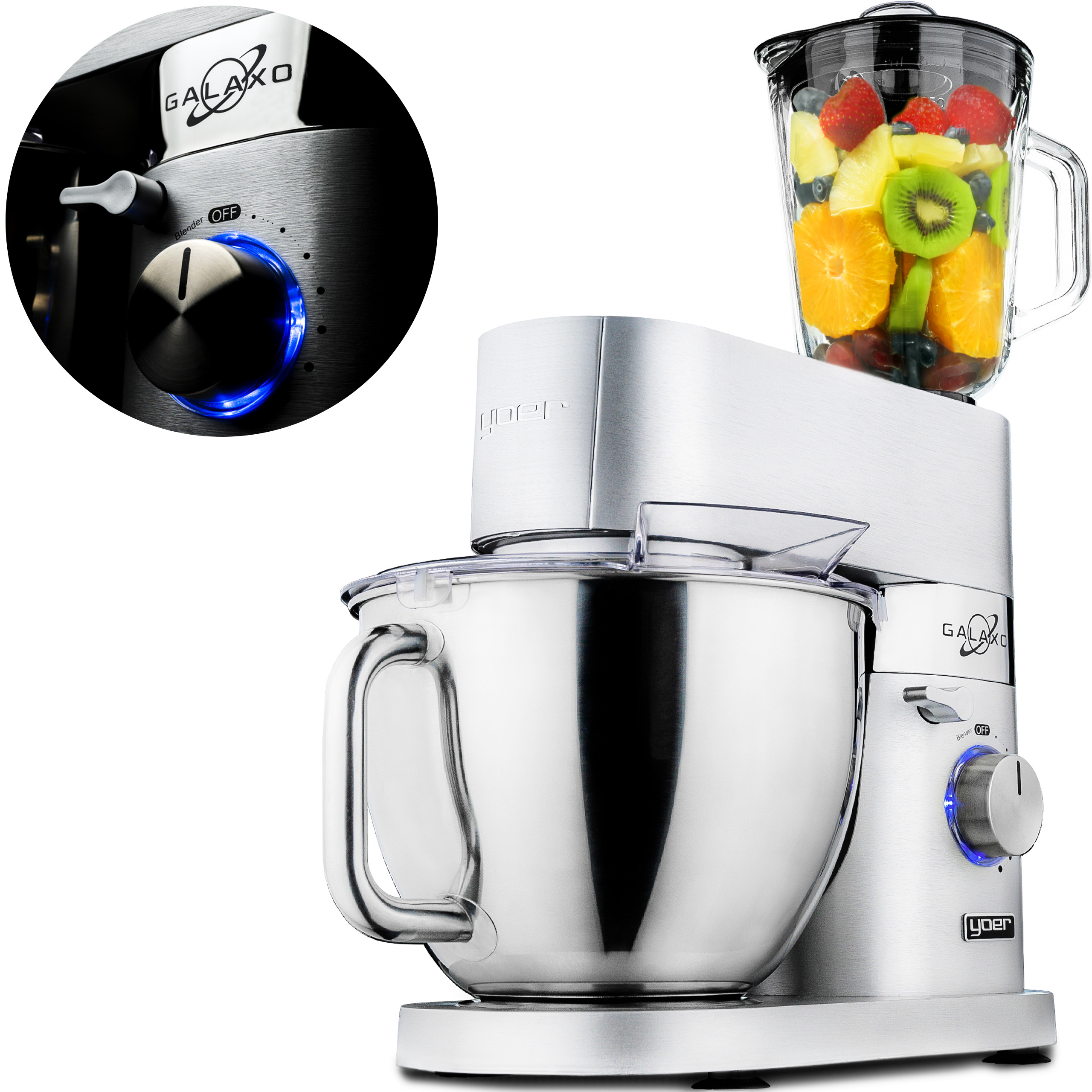 MODERN DESIGN AND BEST QUALITY
✅ Choosing our product, you can have the certainty, that it was made with care and attentiveness about the details.
⚖High quality of the materials has an influence on the big weight of the device (it is 8,5 kg) (18.7 lbs), It ensures sustainability of the construction and stability during work.
The kitchen machine body is made completely of metal, not from a plastic as in standard, cheaper devices.
Modern, universal design - the device makes a good impression because of its exclusive design, thanks to that it suits perfectly every kitchen.
MULTI-FUNCTIONAL BLENDER
The kitchen machine is equipped with high quality jug blender

you do not have to spend your money on a jug blender to prepare fruit or vegetable cocktails in a fast and convenient way
the kitchen machine is perfect for souces, soups and muss preparation.

Glass jug and 6 steel blades - connected with high power will allow you to blend even harder ingredients and crush your ice.
Maximum capacity of 1,8 l, is even 1,5 l of working capacity! - Thanks to that you will prepare smoothie for 6-8 people during one try.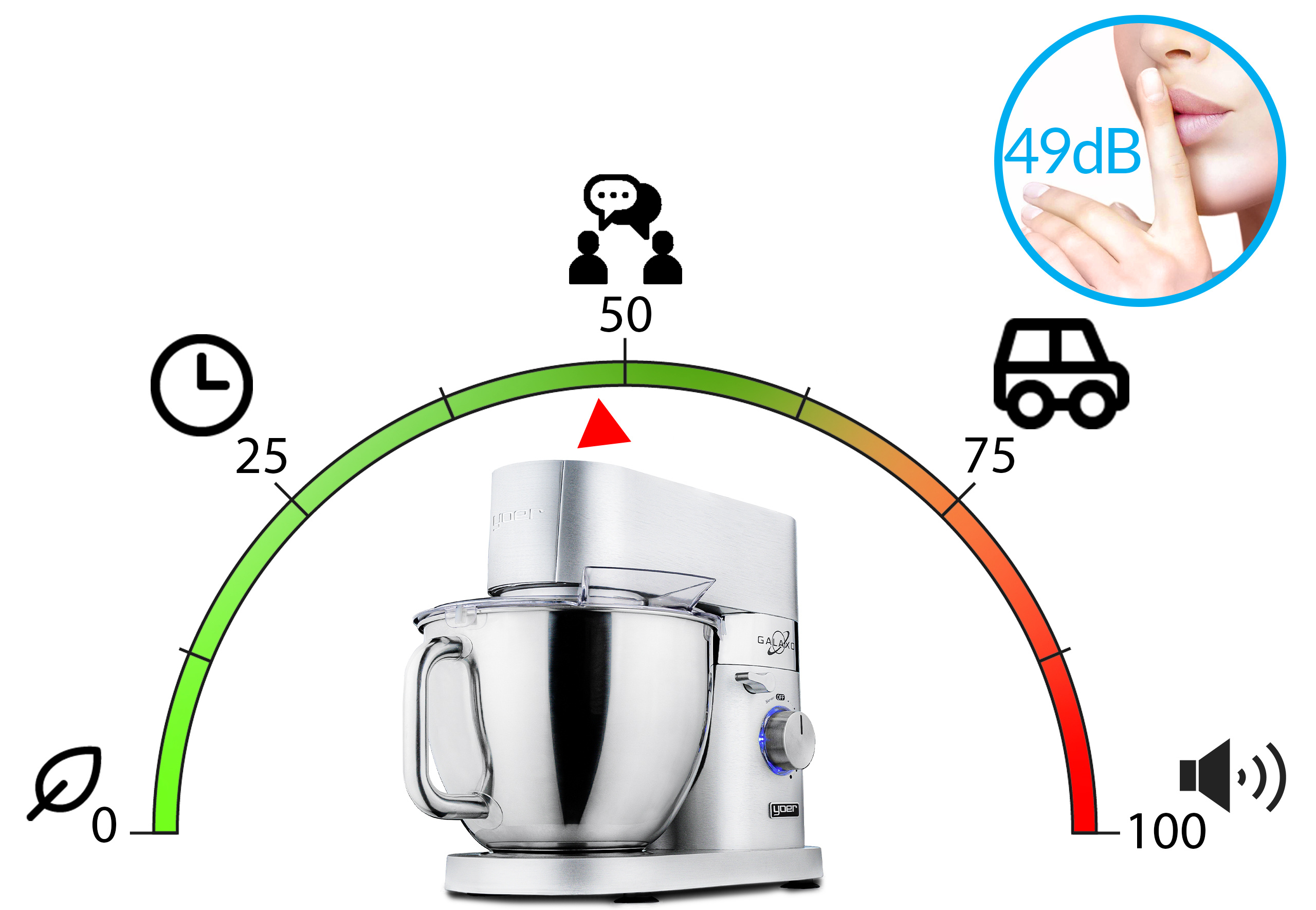 🤫EXTREMELY QUIET OPERATION - JUST 49 dB
Extremely quiet operation - during the work on the lowest speed level, the kitchen machine emitates just 49 dB of loudeness.
Glaxo is one of the most quiet kitchen machines on the market - the volume level of 49 dB can be compared to the loudeness of a normal speech.
More quiet operation means more confort of using:
the kitchen machine does not have a bearing on your earache even during a long work,
you can listen to the music during your meal preparation.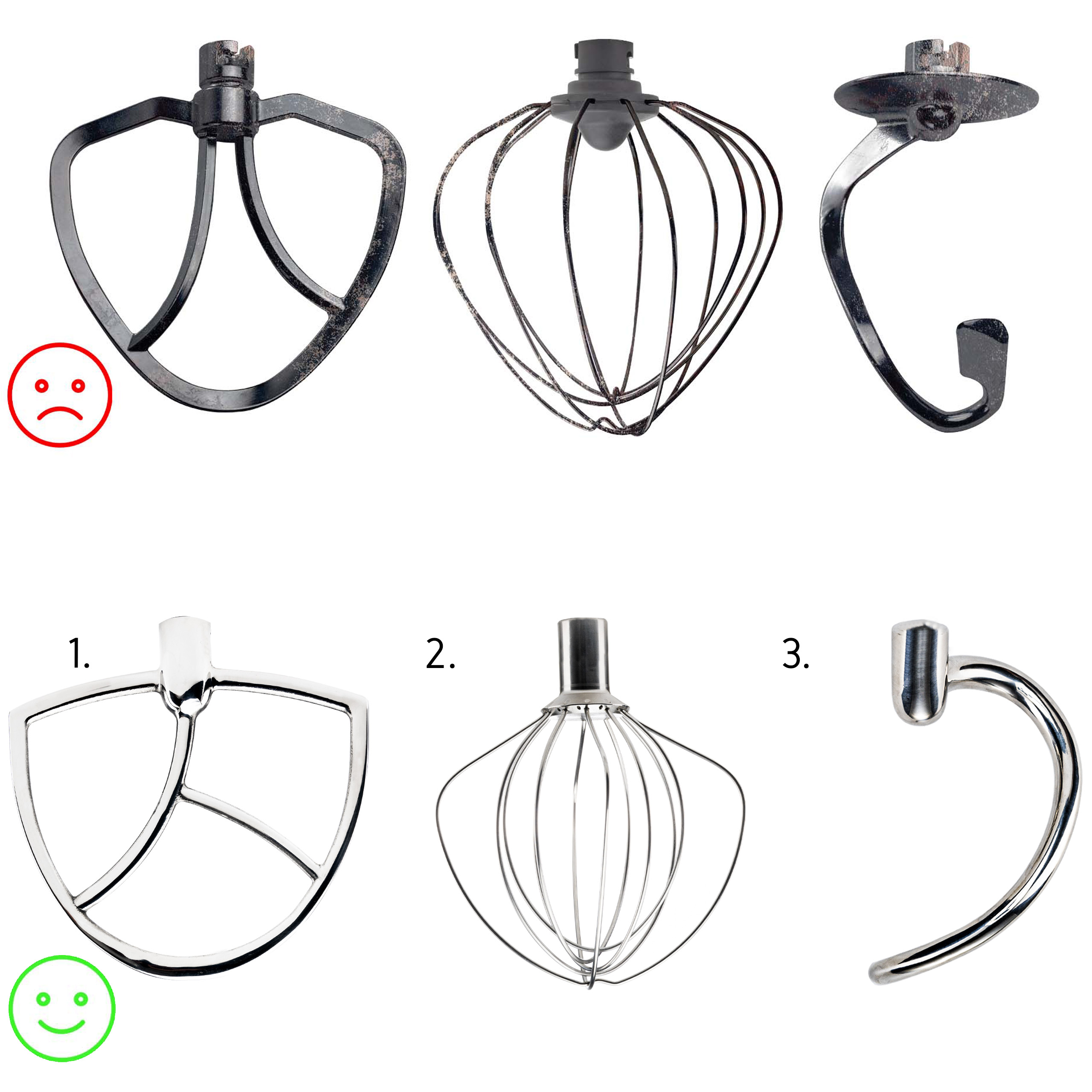 STEEL, RUGGED ELEMENTS
⏩ ⏩ ⏩ DO YOU KNOW THAT...❓ ⏪ ⏪ ⏪
❌ Most of the accessories for kitchen machines which are available on the market are made of aluminium.
❌Aluminium objects are not dishwasher-safe, becuase subsequent to air, water and sulphur reaction there will be black fur on them.
❌Black fur which is visible after the reaction, destroys other objects, dishwasher baskets and its interrior.
✅ Our kitchen machine, as opposed to most of the devices which are available on the market is equipped with extremaly solid accessories made of stainless steel covered with chrome, which do not become destroyed when they are washed in a dishwasher!
UNIVERSAL MIXING PADDLE:

allows to strir all the ingredients and make perfectly smooth and low-viscosity consistence
is useful if you want to prepare low-viscosity batter like for example pancake batter, ponge cake, gofferes, creams and icing
it can be used to stuffing, paté and vegetable purée preparation.

BEATER

perfect for whipping eggs and cream
allows you to prepare smooth creams, muss, puddings and meringue, but souces, omelette and mayonnaise as well
thanks to the beater construction your mass will always be light, soft and smooth.

HOOK

is useful if you want to knead thick dough as for example: shortbread, yeast dough, dough for bread, rolls, donuts, pizza, dumplings, pasta and ginger breads
using hook you have to remember to set the lowest speed level to avoid damaging the device.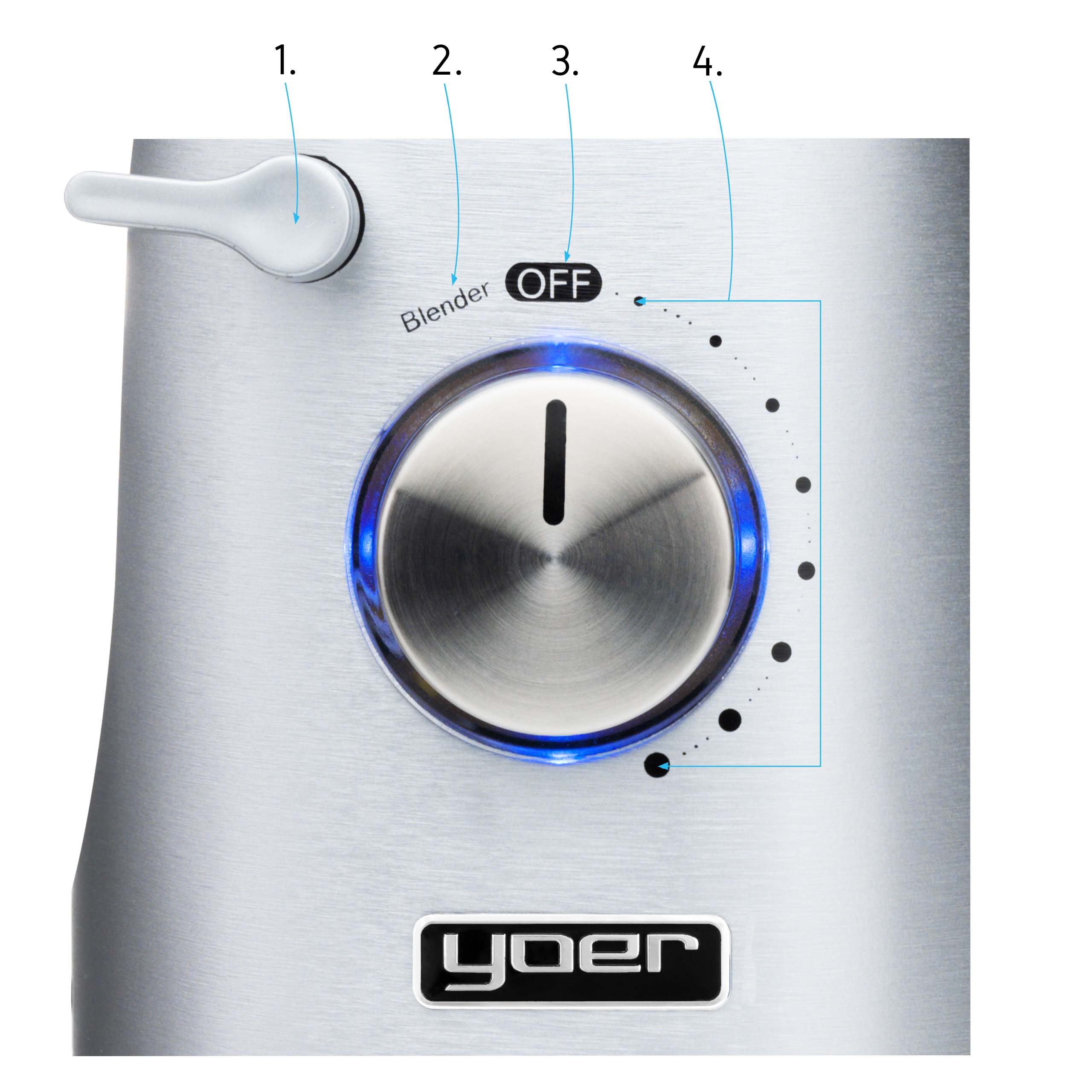 INTUITIVE CONTROL
Handy illuminated knob with blue light - will allow you to easilly increase or decrease the speed of rotations during the device work.
Fluent rotations regulation - you will adjust the speed for every dish without any problems. You just have to set the knob at the chosen position, between 1st and 8th point and the kitchen machine will automatically begin its work.
Kitchen machine head lifting lever - safely lift and put kitchen machine head down.
"Blender" position - turning the blender on.
"OFF" position - turning the device off.
The range of the power of the work - fluent work speed regulation within the range of 1-8.
✅ Speed levels will help you prepare every dough and dish type you want:
🍞Kneading thick dough
- accessory:
hook
speed level:
1 ➡
time:
6 minutes
🥯 Preparing low-viscosity dough and stirring soft ingredients
- accessory:
mixing paddle
speed level:
2-7 ➡
time:
6 minutes
🥚 Whipping eggs or cream
- accessory:
beater
speed level:
8 ➡
time:
6 minutes
🍪 Shaping pasta or cookies - cookie and pasta attachment
speed level:
4-5 ➡
time:
3 minutes
🔪 Slicing, chopping and grating - cutter
speed level:
8 ➡
time:
3 minutes
🥓 Meat grinding - sausage attachment
speed level:
7-8 ➡
time:
3 minutes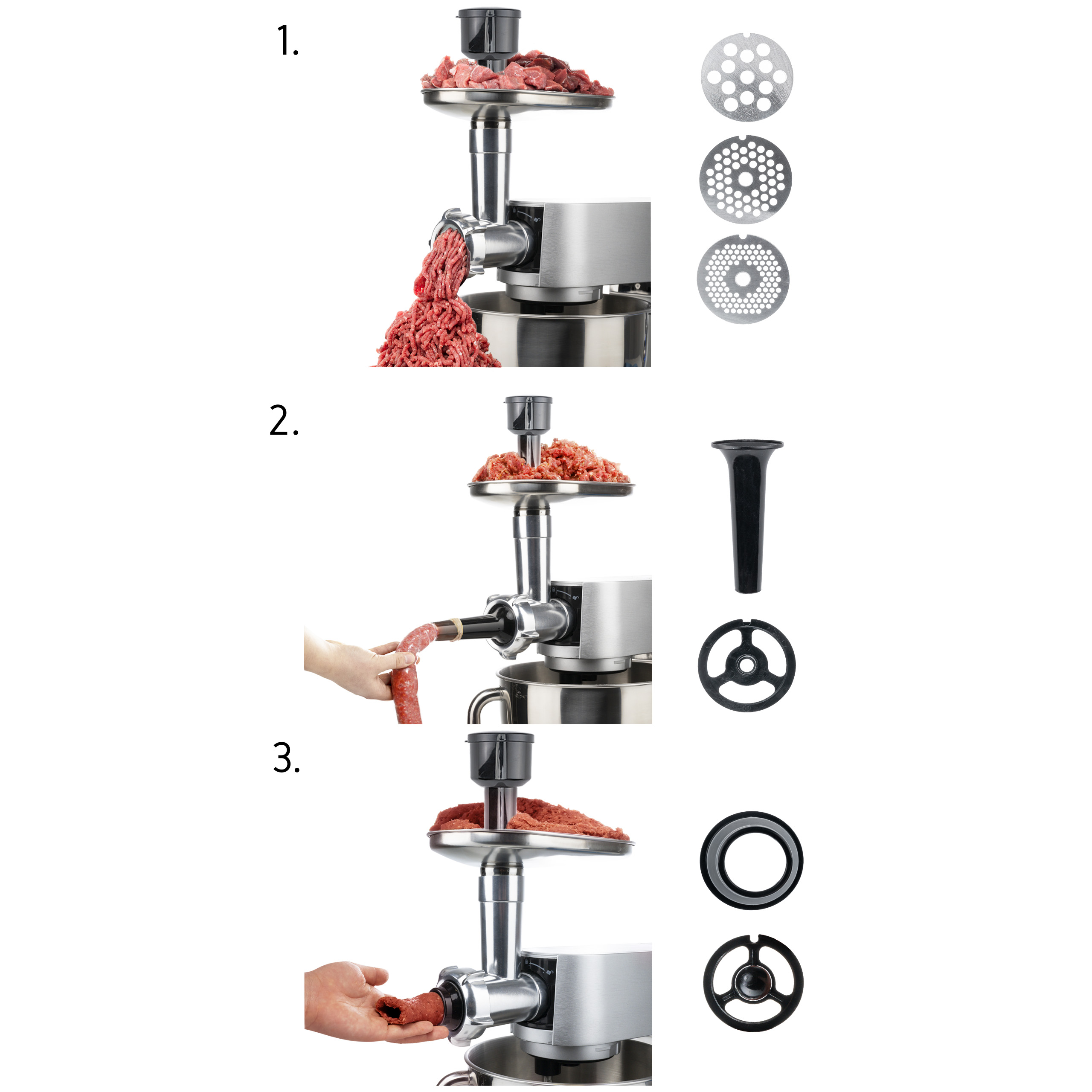 METAL SAUSAGE ATTACHMENT WITH A MULTI-FUNCTIONAL USE
Grinding meat function

3 cutting plates made of stainless steel with pips diameter of 3mm, 4mm and 8mm - will allow you to easily grind raw meat into one of three types of thickness to choose.
Unbeatable effectiveness while preparing home-made meals: burgers, pork chops, roasts, paté, dumplings with meat, tortillas and taco. It will cope with fish, hard cheese, cottage cheese, fruit, vegetables and tofu as well.
Pusher can be also a convenient storage for cutting plates and attachments.

Impaling sausages function

Butcher's attachment - enables shaping home-made sausages from grinded and seasoned meat.

Kebbe kebbe meatballs

Kebbe / kibbeh meatballs - is an arabic dish, made of grinded meat and bulgur groats.

Grinded meat with groats has to be put inside the grinding chamber.
Special attachment will shape a tube which has to be just cut.
Impale each meatball, using for example butter or pinii nuts.
Fry them and enjoy your meal!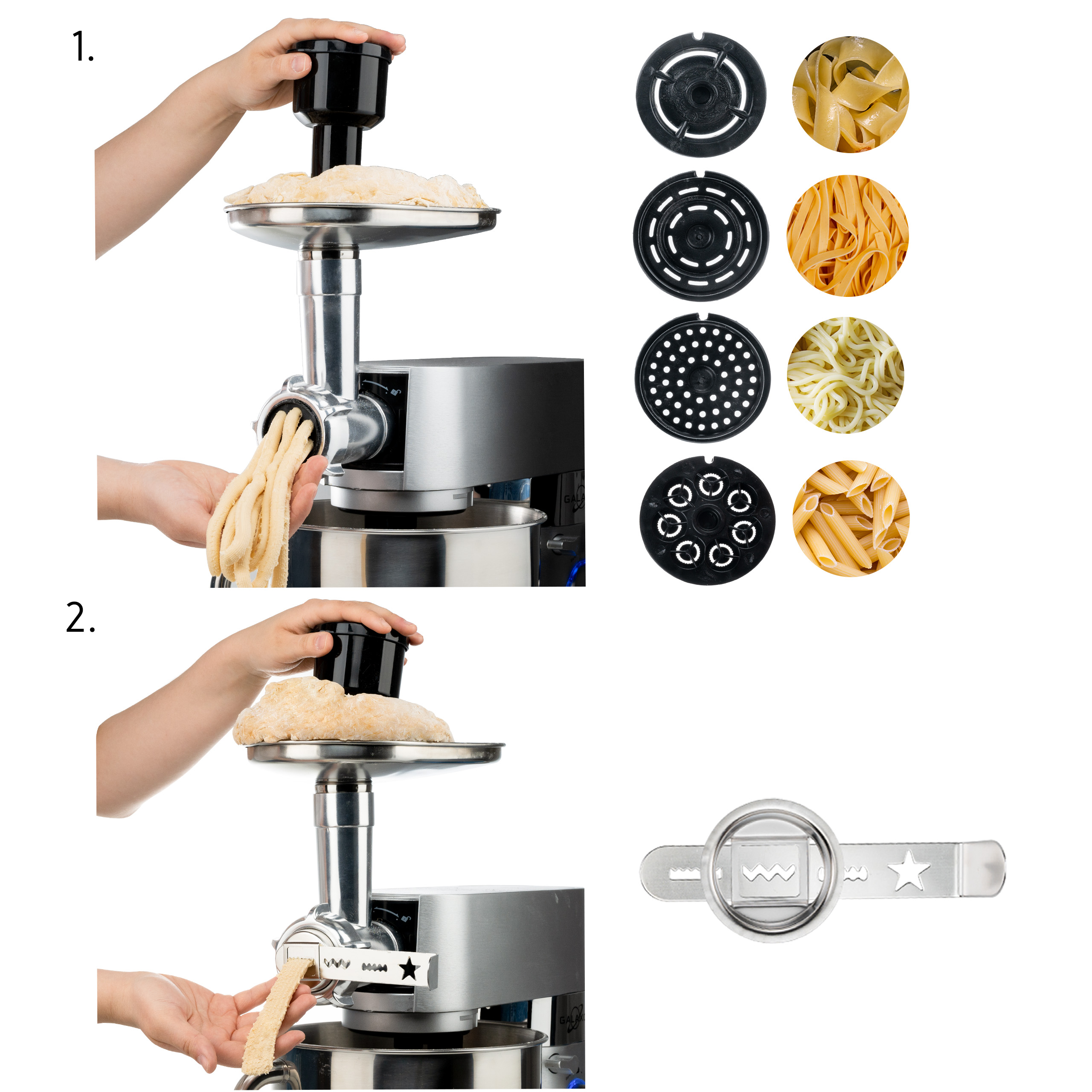 ATTACHMENTS, PERFECT FOR PREPARING PASTA AND CRISPY COOKIES
Making 4 types of pasta

italian rigatoni
tagliatelle
pappardelle
japan udon (perfect for ramen and other soups).

Fast cookies production
CUTTER - PERFECT FOR VEGETABLES AND FRUIT
3 tumble-graters made of stainless steel - pwill allow you to slice or cut into shavings every ingredient you want or grate it - within just a couple of minutes!
Creaming and shredding grater

you will effortlessly prepare fruit and vegetables puree
you will grate potatoes for dumplings, potatoe dough or stuffing for ravioli
you will chop celery, carrot, chocolate or coconut pieces into shavings.

Shredding grater

you will easily grate cheese or slice vegetables into bigger shavings
preparation of delicious, hand-made salads has never been so easy before!

Slicing grater

you will slice cucumbers, onions, zucchini and other ingredients within a blink of an eye into one-size slices.
perfect potato chips easily reached!
💦 SIMPLE AND FAST CLEANING
✅ It is dishwasher-safe - almost all the elements and accessories which are in the package can be washed in a dishwasher. Do not wash in a dishwasher these elements:
Grinding chamber
Hopper tray
Locking nut
Grinding chamber auger
COMPLETELY SAFE
Protection from incorrect assembly

the kitchen machine will not begin its work when you incorrectly install the blender
grinding and blender mounts are addictionally protected by the special covers.

Overheating protection

the kitchen machine will turn off automatically after achieving its maximum temperature
protection from damaging the device.

Kitchen machine head lock

prevent from lifting the kitchen machine during its work
pull and hold the lever on the device body to lift the head and take off the mixing paddle or the bowl.

Anti-slip feet

will ensure perfect stability
prevent effectively from moving the device during its work.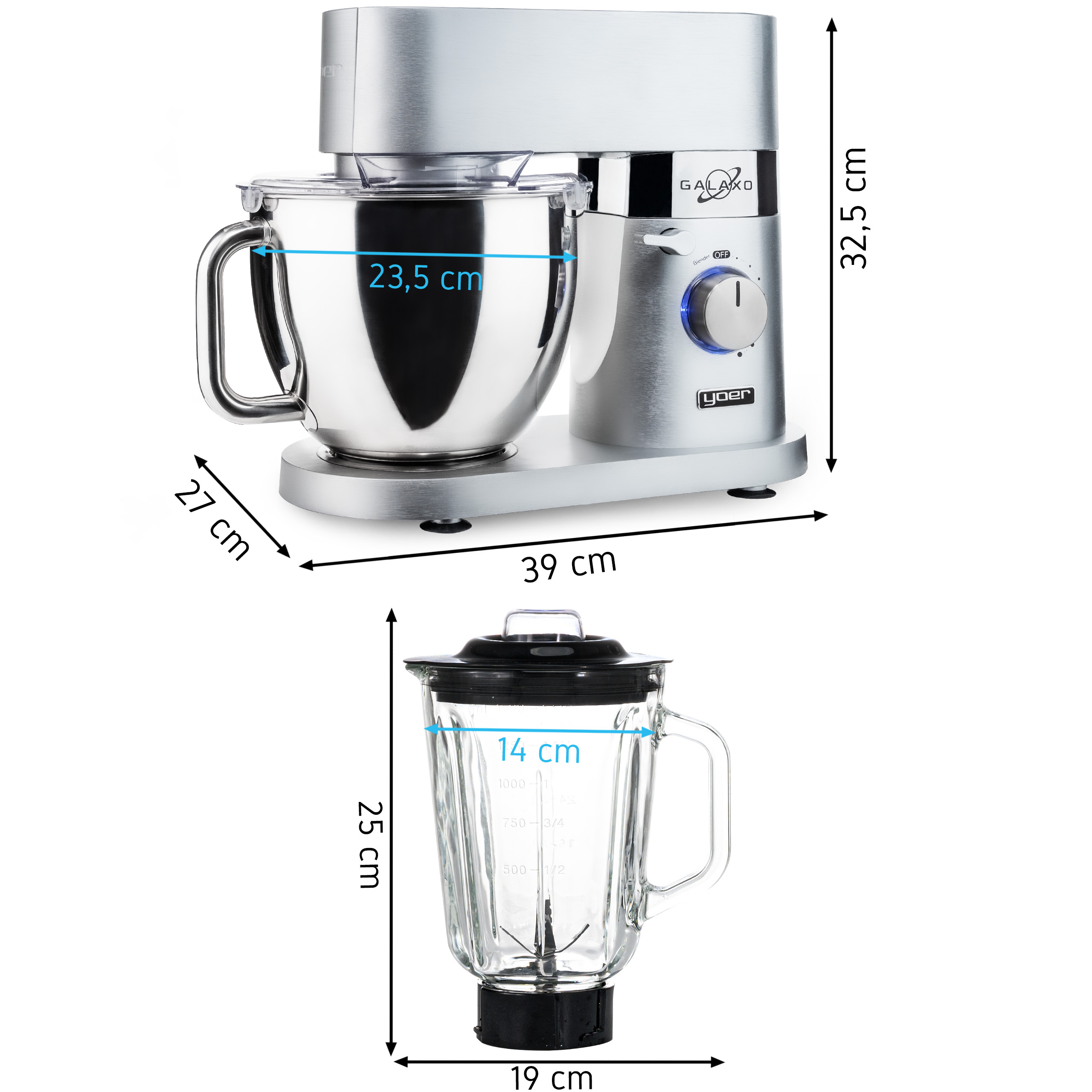 📑TECHNICAL SPECIFICATION
Max. power (blocking the motor): 2300W
Nominal power: 1500W
Motor count: 2
Sound level: 49 dB
Bowl capacity: 5,8 L
Blender jug capacity: 1,8 L
Color: Silver/grey
Power cord length: 106 cm (3.5 ft)
Weight: 8,5 kg (18.7 lbs)
Kitchen machine dimensions: 32,5 x 27 x 39 cm (12.8 x 10.6 x 13.4 ")
Blender dimensions: 25 x 19 cm (9.8 x 7.5 ")
Blender diameter: 14 cm (5.5")
Bowl diameter: 23,5 cm (9.3 ")
Polish power plug: 220-240V, 50/60 Hz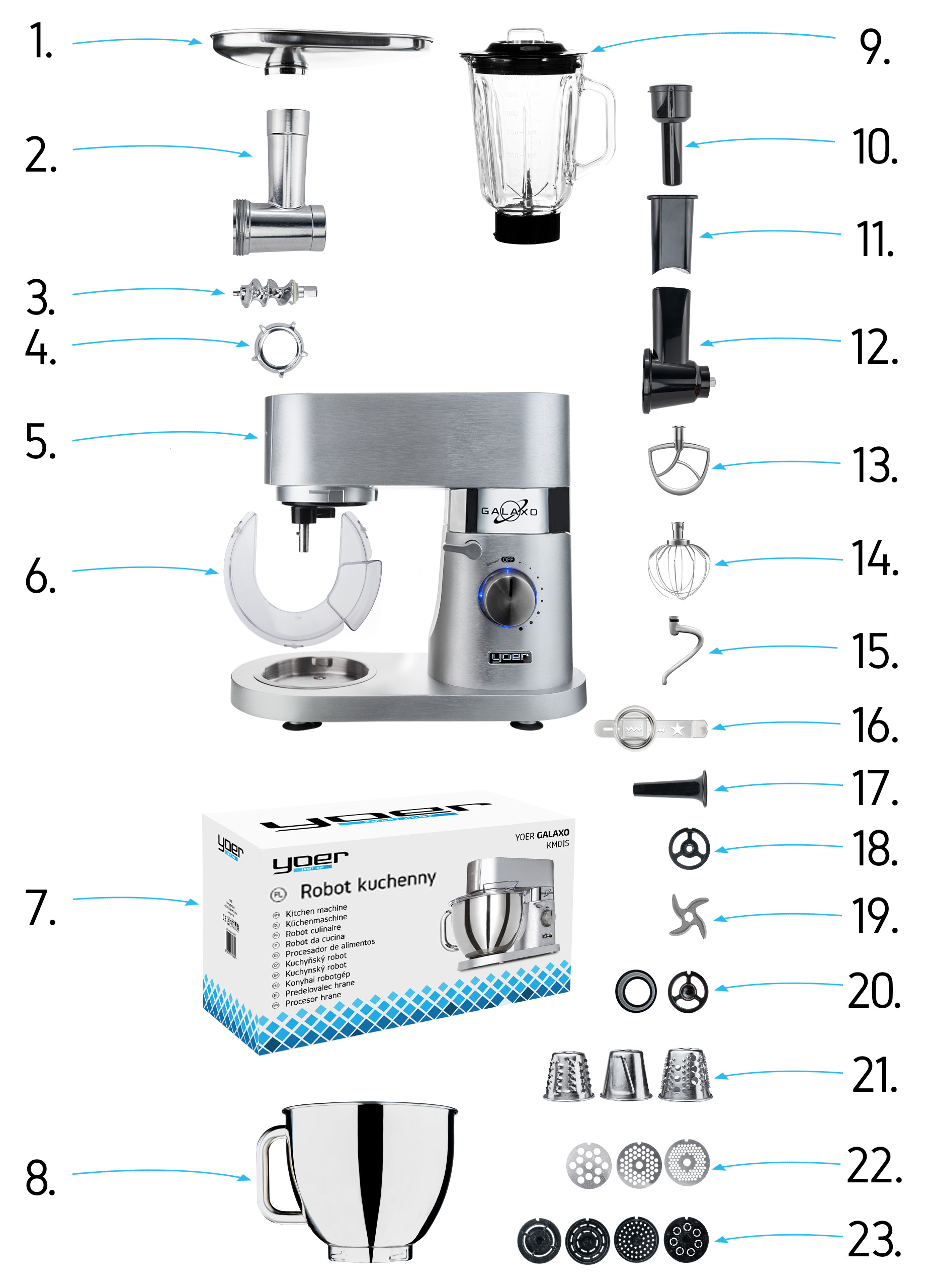 EQUIPMENT
Hopper tray
Grinding chamber
Grinding chamber auger
Locking nut
Kitchen machine
Bowl cover
Original packaging
Bowl
Blender
Main food pusher with attachments and cutting plates storage
Cutter food pusher
Cutting chamber
Mixing paddle
Beater
Hook
Cookie attachment
Sausage attachment
Sausage and cookie attachment cutting plate
Cutting knife
Kebbe attachment
Shredding grater, slicing grater and potatoe creaming grater
3 cutting plates: coarse, medium and fine
Rigatoni, tagiatelle, udon and pappardelle pasta attachment
YOU WILL RECEIVE:
✅ Kitchen machine - details above,
✅ YOER PLATINUM SECURITY card,
✅ Warranty card,
✅ PL/EN Instruction manual.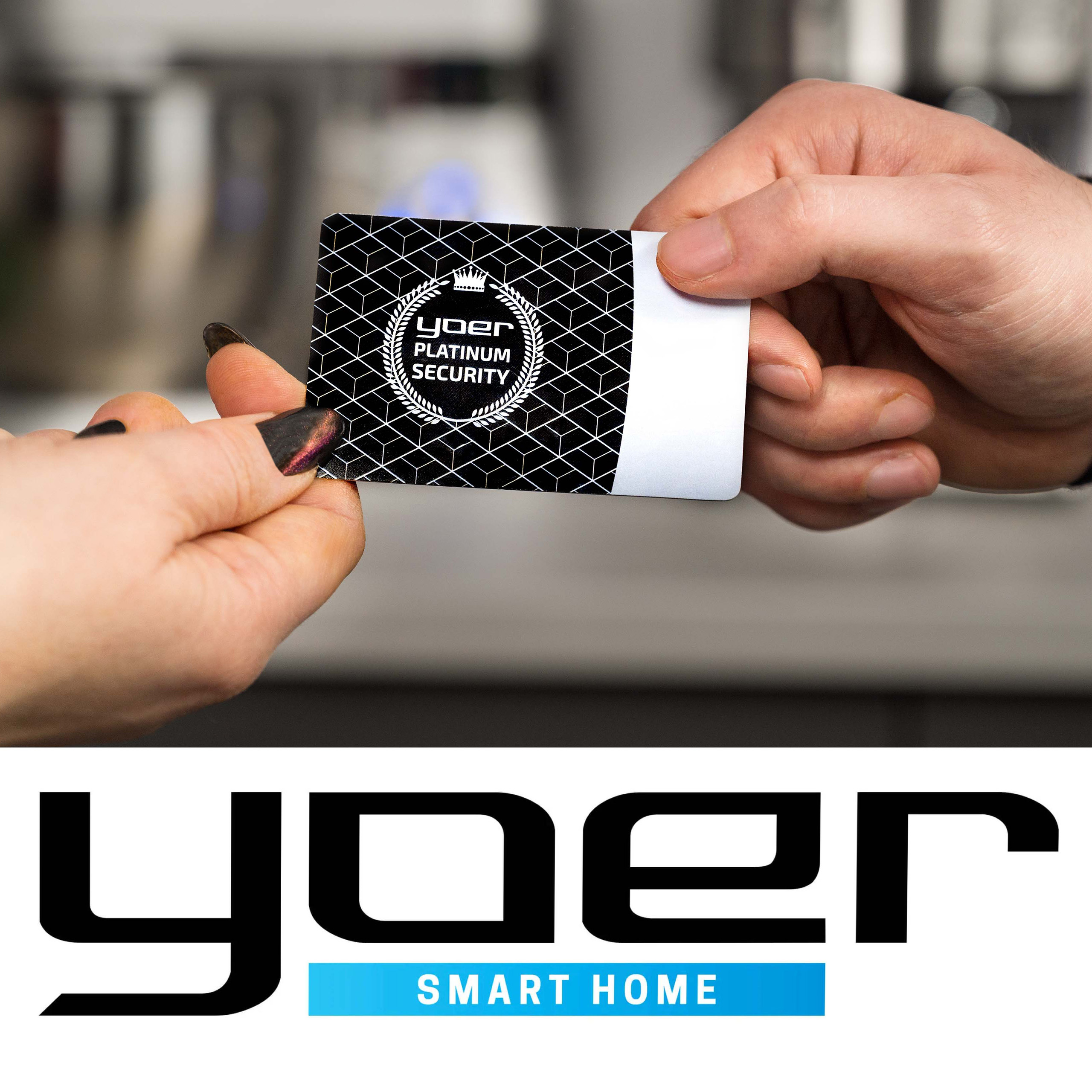 YOER PLATINUM SECURITY
When purchasing products from the official Yoer store you receive the YOER PLATINUM SECURITY package, which is an assurance of additional protection.
YOER - POLISH MANUFACTURER AND BRAND
YOER constitutes an excellent proof that high quality of products does not necesserily go in hand with high prices.

YOER KM01S Instruction manual - Click here