Language
Infrared heater YOER Slimo IRH01W
Power: 720W, Timer, Electronic thermostat, Remote control, Control by Wi-Fi, Heating surface: 35 m², Modern heating element, Thermal fuse, Touch control panel, Wall mounting, Quiet operation

Shipping within

24 hours

Availability

Small

54

pcs.
| | |
| --- | --- |
| Bar code | |
| EAN | 5906874237588 |
Description

Instruction manuals
Infrared heater YOER Slimo IRH01W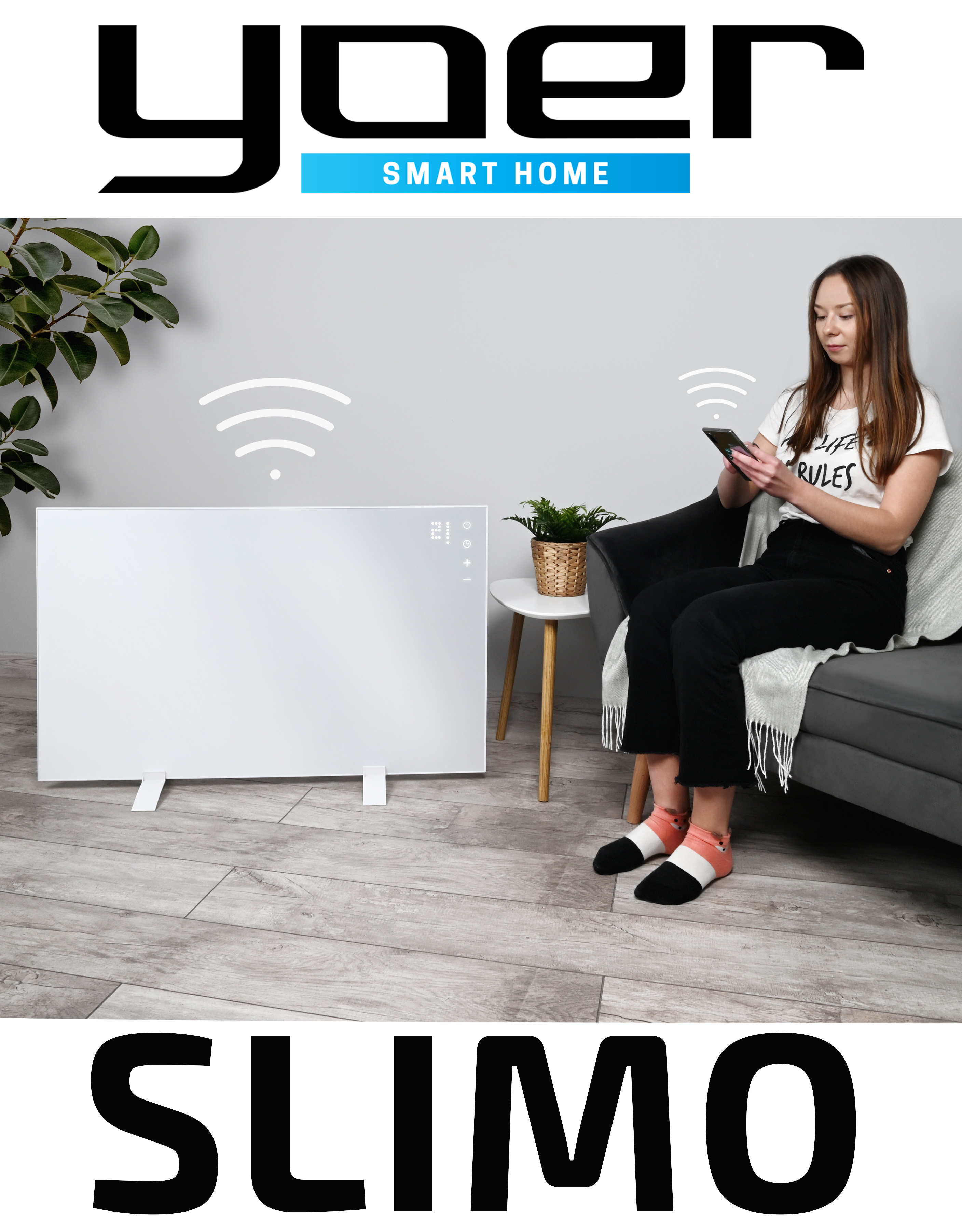 PRODUCT DETAILS
Infrared heating - you will heat your room quickly thanks to the heat accumulation,
Built-in Wi-Fi - control the device via mobile phone without having to get off the couch,
Modern heating element - keep the desired temperature in your room,
720 W - effective heating does not have to cost a fortune,
Timer - program an automatic shutdown within an hour,
7-day range of programming the device operation - set the schedule of the operation of the device for a whole week, thanks to the mobile app,
Touch control panel - change the working parameters of the device in such an easy way,
Remote control - control the device without having to get off your coach,
Quiet operation - sleep peacefully while the heater is turned on,
2 ways of mounting - mount the device on the wall or use it as a free-standing heater,
Overheating protection - do not worry about damaging your device,
Slim, elegant construction - save space and arrange your room in a good style.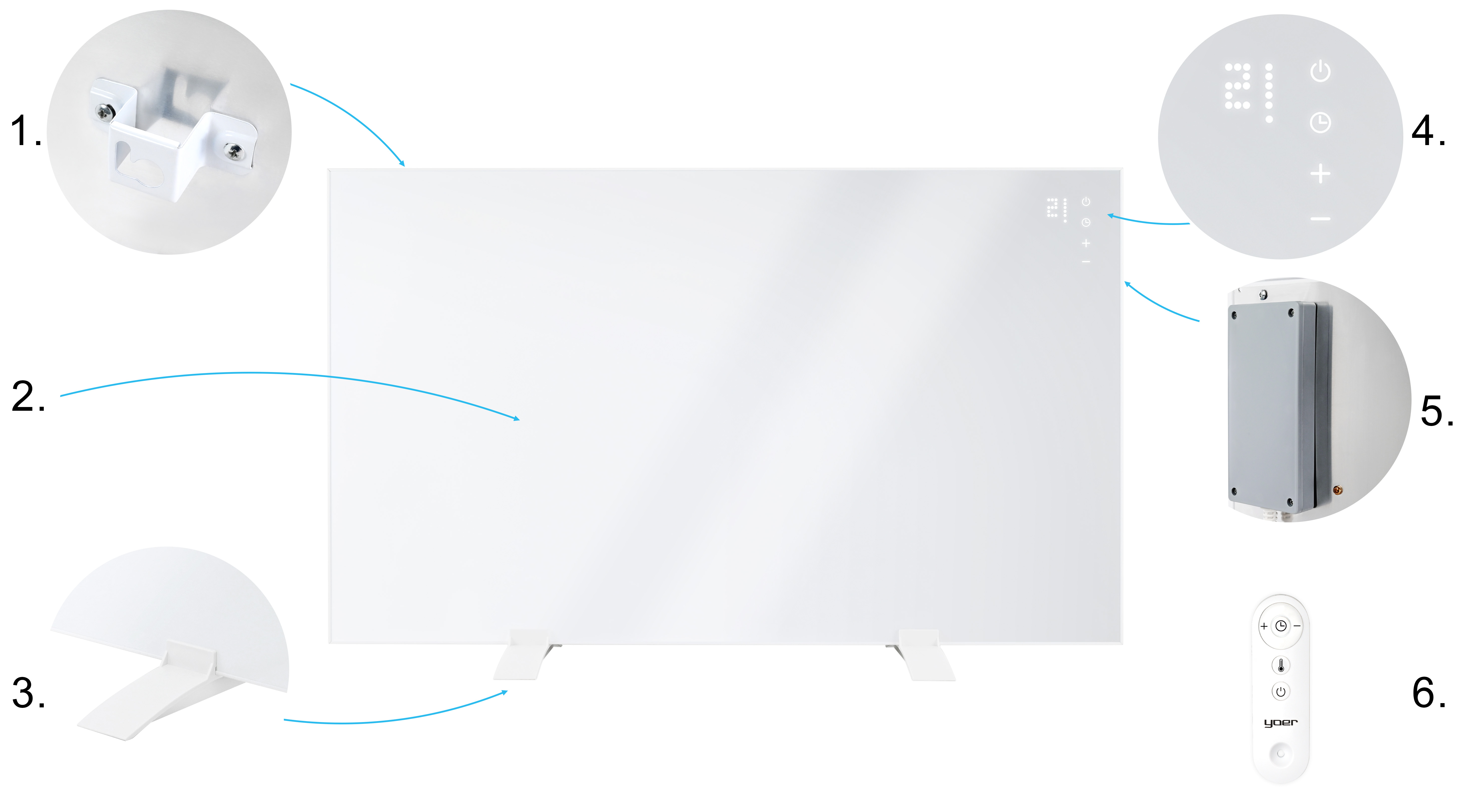 CONSTRUCTION - MAIN COMPONENTS
Mounting handles
Heating panel
Double feet
Touch control panel
Control module
Remote control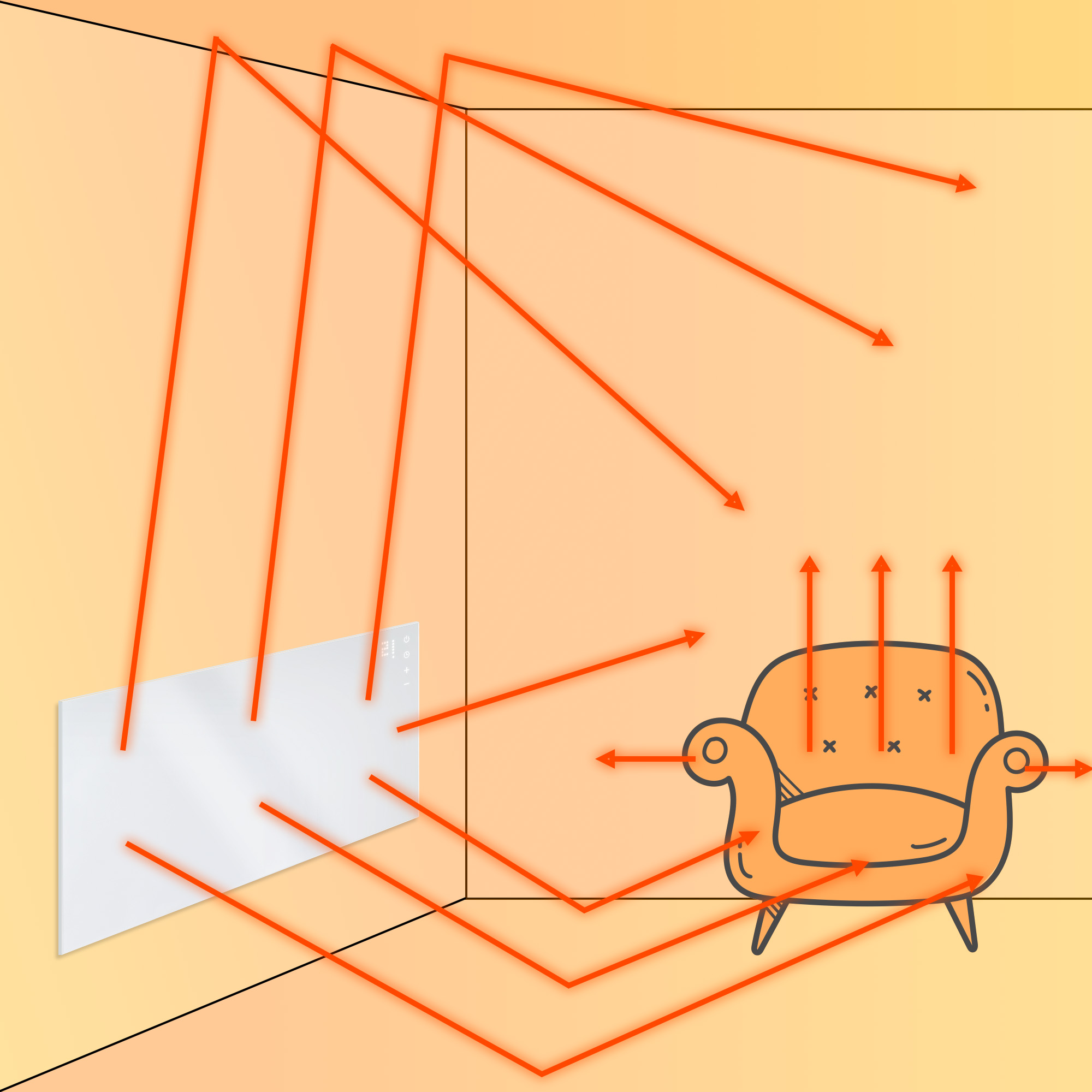 HOW DOES THE INFRARED HEATER WORK?
Accumulation of heater - increased output:
the heater generates infrared radiation evenly,which after getting in touch with a surface, heats it,
objects which are in a heated room absorb and accumulate heat, then release it gradually in the room,
the heat carrier is therefore not only the air, but all the objects in the room, thanks to which you can quickly and effectively heat the room,
Natural effect - heat your house with the help of safe and natural unfrared radiation:
it is better than rays of the sun, because in comparison to them it does not generate harmful UV radiation,
heat your room almost immediatelly, thanks to the natural heating circulation,
Evenly heated room - enjoy good to your health heating comfort, which you will get thank to even temperature distribution in the air.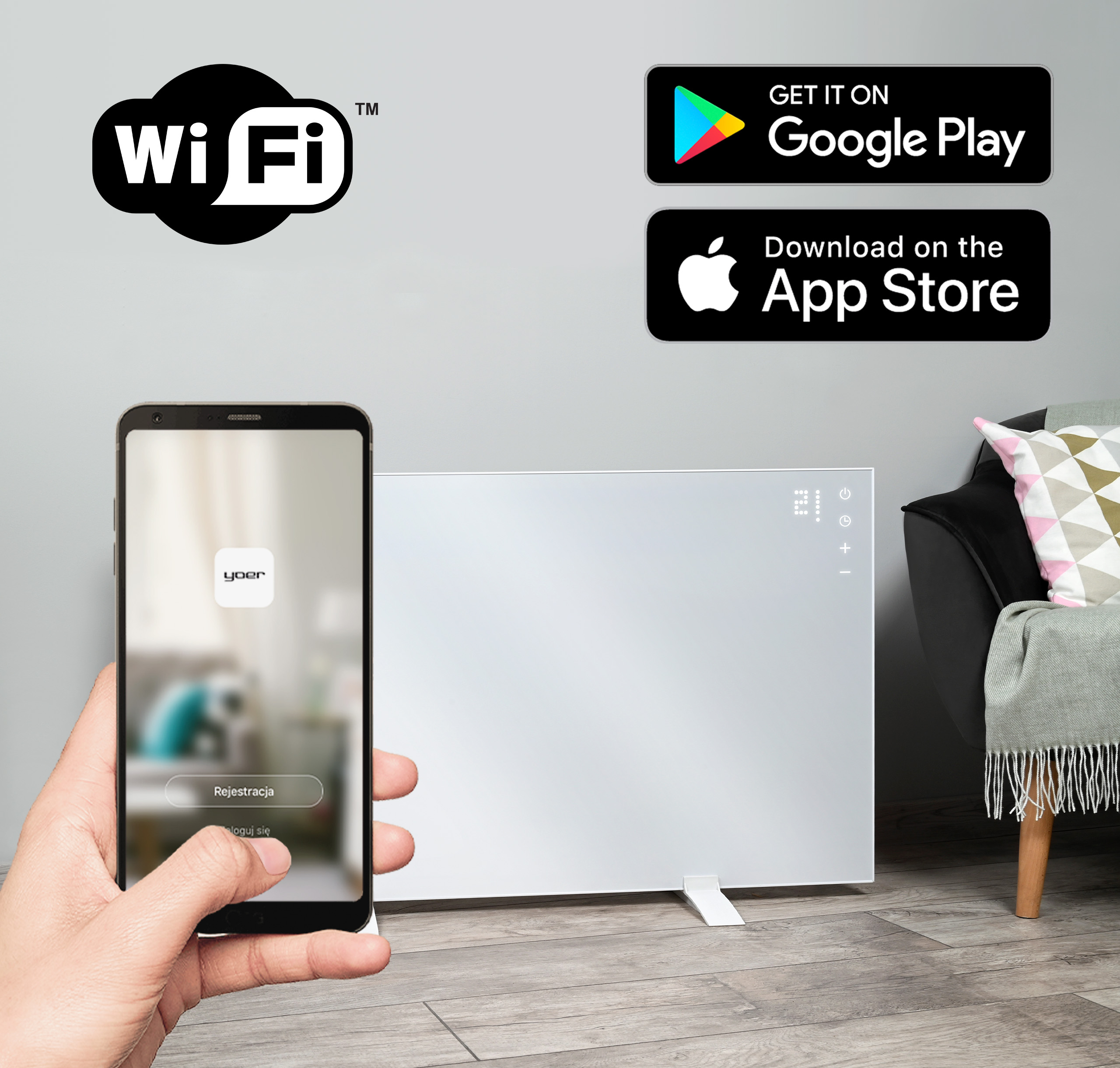 REMOTE CONTROL
Control the device in a convenient way thanks to the Wi-Fi connection. The device has built-in wireless conection module, which will allow you to comprehensive control the device via a mobile device.
Controlling via Wi-Fi with the possibility of programming the heater operation on the phone, tablet, thanks to easy-to-use app.
The app is available in Google Play and AppStore.
The app works on Android and iOS.
Programming the device control from anywhere with Internet access.
Thanks to the app you will be able to:
turn the device on or off,
change the temperature in your room,
program the heater to turn on or off automatically,
set the schedule of the device for a whole week.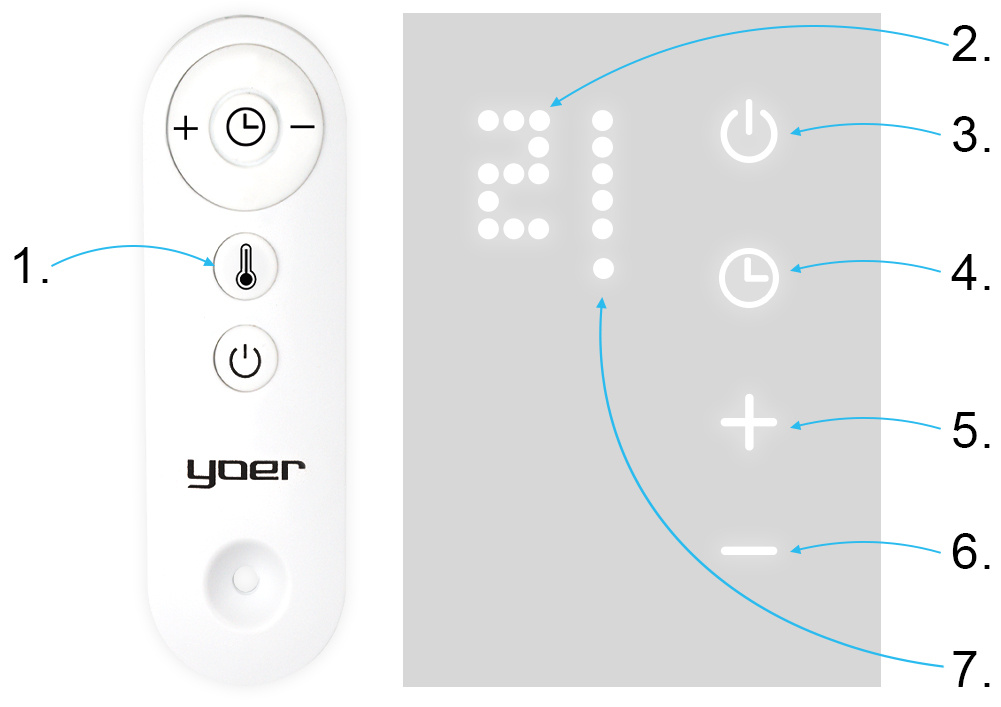 TOUCH CONTROL PANEL + REMOTE CONTROL
Remote control - will enable you to control the device in a bigger distance, without having to get off your coach.
1. Thermostat button - press it to change the temperature of the heating with the help of the remote control
Touch control panel - easy control of the device by using touch buttons:
2. Digital display - informs you about current temperature in a room, set heating temperature and auto-shutdown time
3. ON/OFF button - turn the device on or off
4. Timer button - press it to program auto-shutdown of the device
5. Temperature and hours increase button - press it to increase the heating temperature or time, after which the heater will turn off
6. Temperature and time decrease button - press it to decrease heating temperature or time, after which the heater will turn off
7. Wi-Fi activity indicator - informs you about current status of connection with the wireless net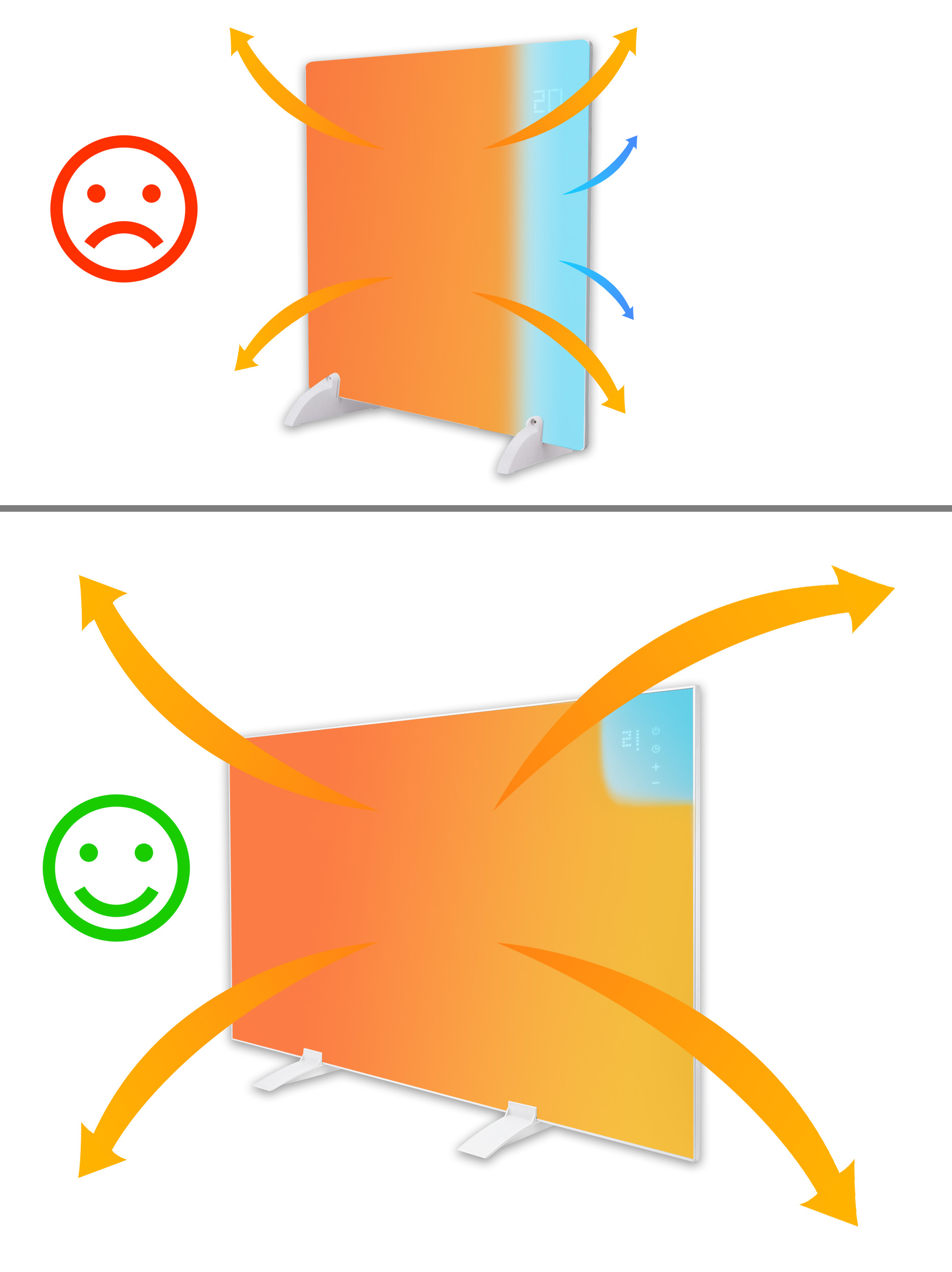 WHY SLIMO IS BETTER THAN OTHER INFRARED HEATERS?
Large ehating surface - in comparison to other infrared heaters, Slimo uses almost its whole surface for heating a room:
35 m2
- surface of effective heating with building insulation
29 m2
- with average building insulation
23 m2
- with poor building insulation
Energy-saving:
720 W of power connected with the infrared technology,
ensures similar effects like other electric heaters with the power of 2500W. Provide yourself with
effective heating when not having to pay high energy bills costs.
◾◾◾
TAKE CARE OF YOUR HEALTH
Get rid of dust from the air - during infrared heating there is no air circulation, thanks to which there is no knocking out of dust:
this proves that the heater is
perfect for allergy sufferers,
you will keep more clean in a room,
It does not dry out the air - do not worry about respiratory infections or tired eyes.
Infrared heating helps in the treatment of various ailments, such as rheumatism or fatigue.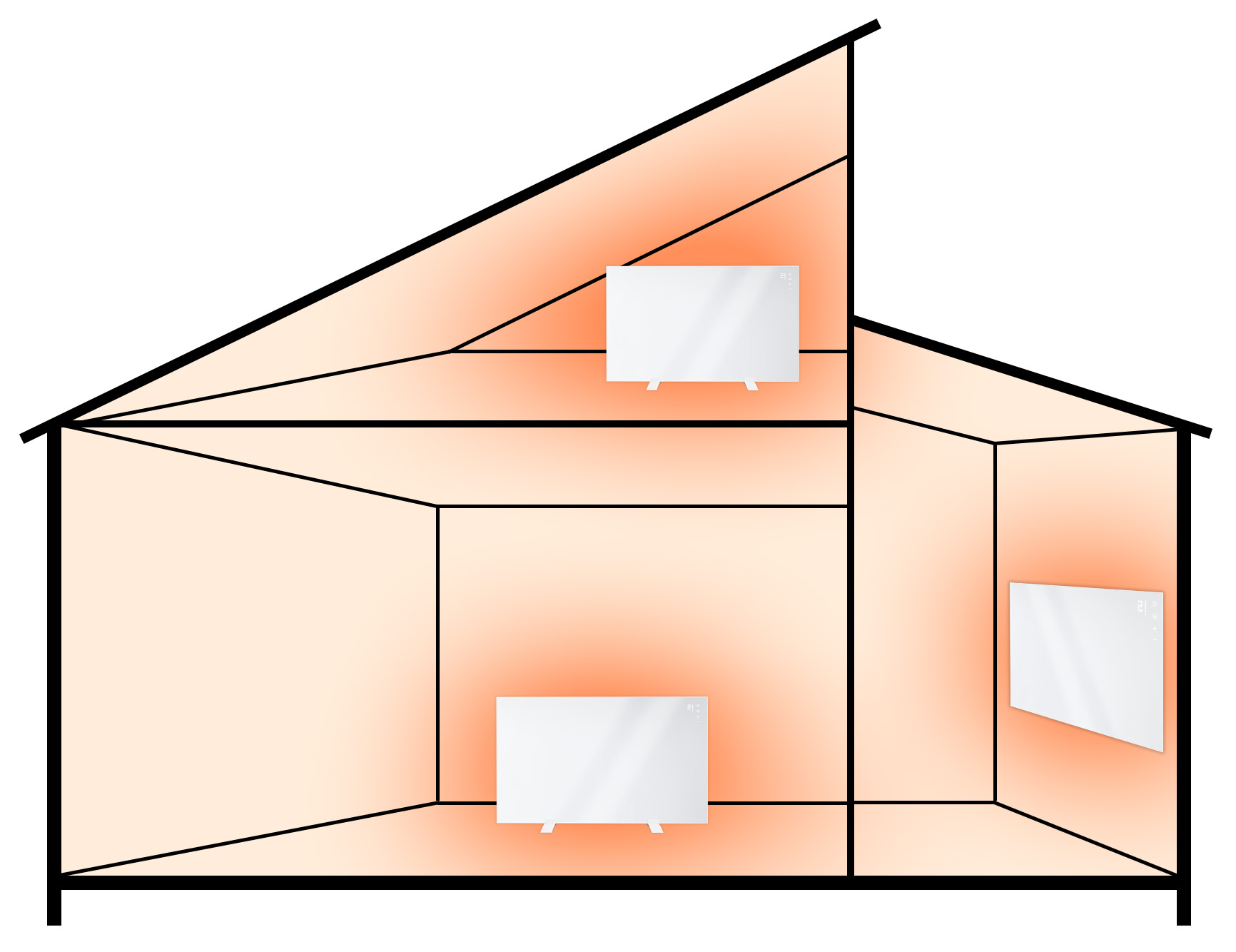 2in1 - SIMPLE ASSEMBLY
Extremely light and slim heater - modern technology at your fingertips.
1. Wall assembly:
special handles - will enable you the heater to hang it on the wall,
do not worry about the floor space - you can use it in a different way.
2. Free-standing device:
thanks to double stable feet you can place it everywhere,
they will prevent from overturning the heater, thanks to which it will not be damaged.
Easy assembly - will allow for quick assembly of the device and will allow you to change the method of assembly later - hanging on the wall or setting it up in the room.
MODERN HEATING ELEMENT
Avoid losing heat - thermal energy produced by the heater, is transferred to any surface within the range of action, thanks to which it is not lost.
Special construction - will ensure effective heating:
Outer PET layer - special reflective layer,
Main heating surface - "Carbon Crystal Oil" - modern polymer with carbon crystal particles,
Polypropylene layer - multi-layer element made of high-quality plastic,
Aluminium layer - light back layer; which helps to distribute heat around the room,
Quiet operation will guarantee perfect working or sleeping conditions - enjoy peace and comfort.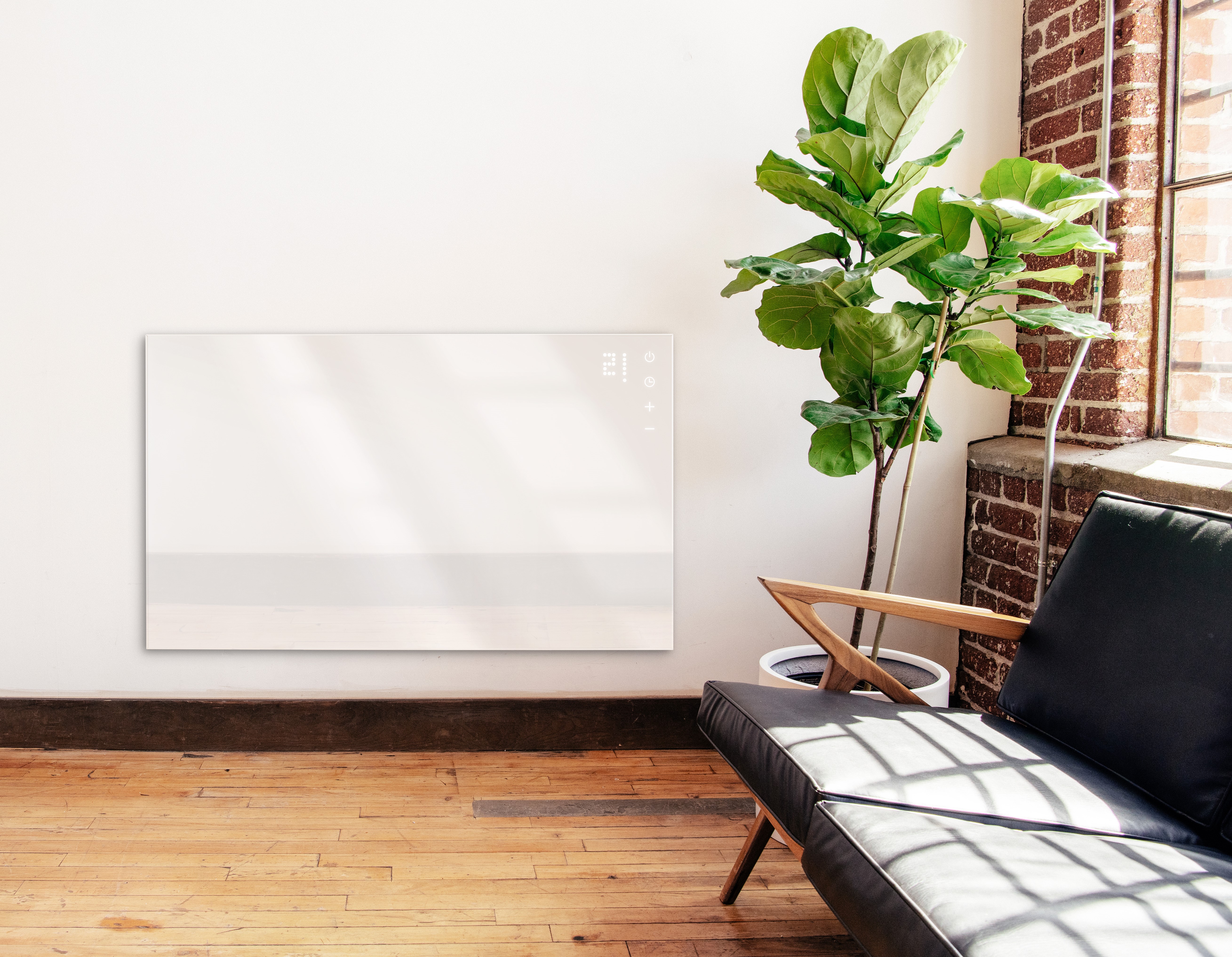 EXCLUSIVE DESIGN
Precisely made with attention to every detail - you are able to use the device designed both based on its functionalities and its elegant look.
Modern casing with backlit control panel:
stop using traditional, ribbed heaters which design and output is not satisfying,
you will have a heater grzejnik with a range of amenities, with the help of which you will create your dream "Smart Home".
Very narrow, slim device:
will fit perfectly in a small room,
will help you save your space, which can be then used in a different way,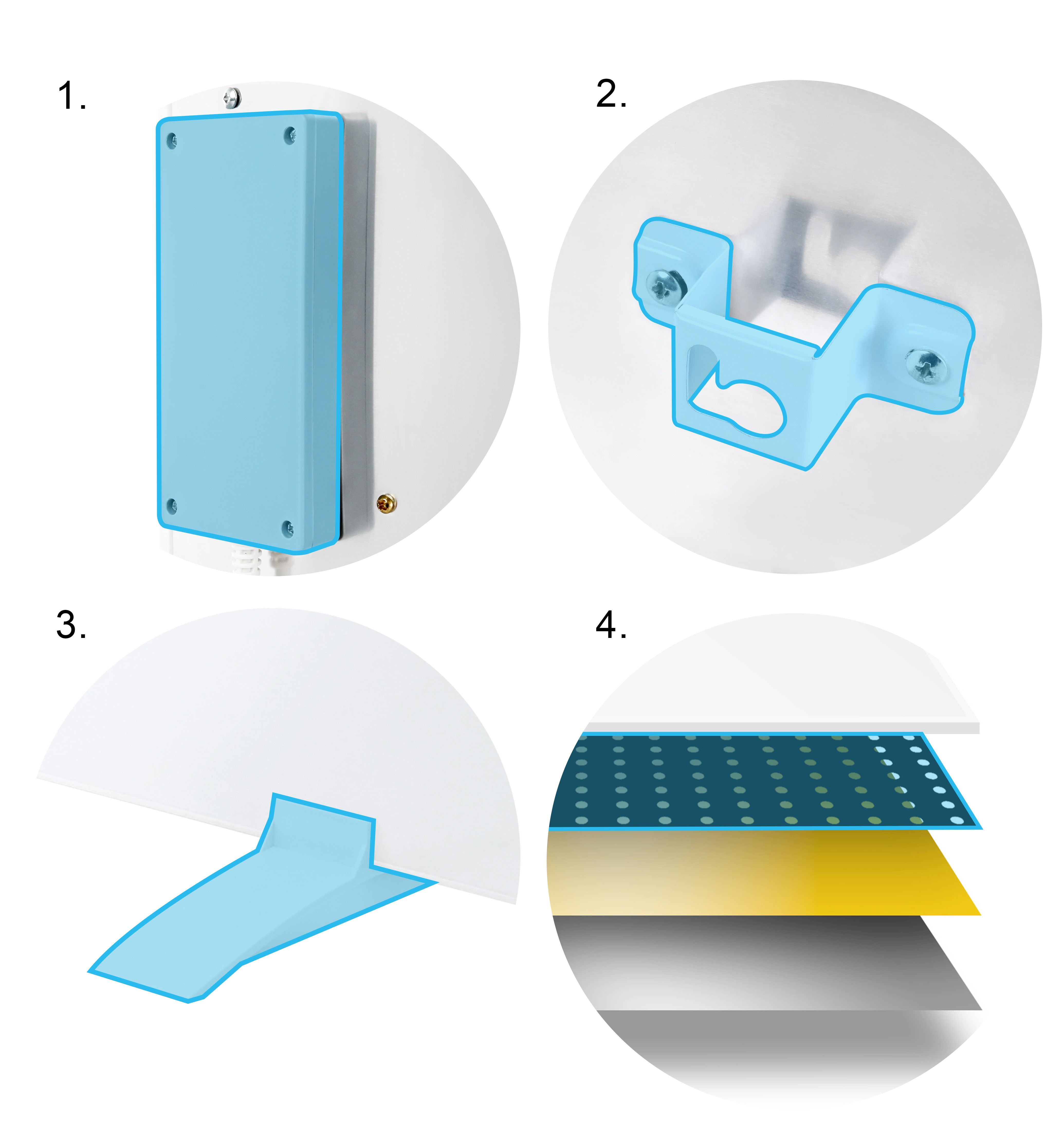 SAFETY AND CONVENIENCE
1. Control module with thermal fuse - do not worry about damaging your device - in case of achieving too high temperature the heater will automatically turn off.
2. Mounting handles:
mount you heater safely and stably on the wall,
special construction will enable you to mount the heater on the wall and disassmeble it,
3. Double mounted feet:
ensures stability of the device,
you do not have to worry about accidental overturning of your device,
4. Modern heating system:
improve your health, dzięki polepszeniu warunków w których żyjesz,
enjoy air free of dust.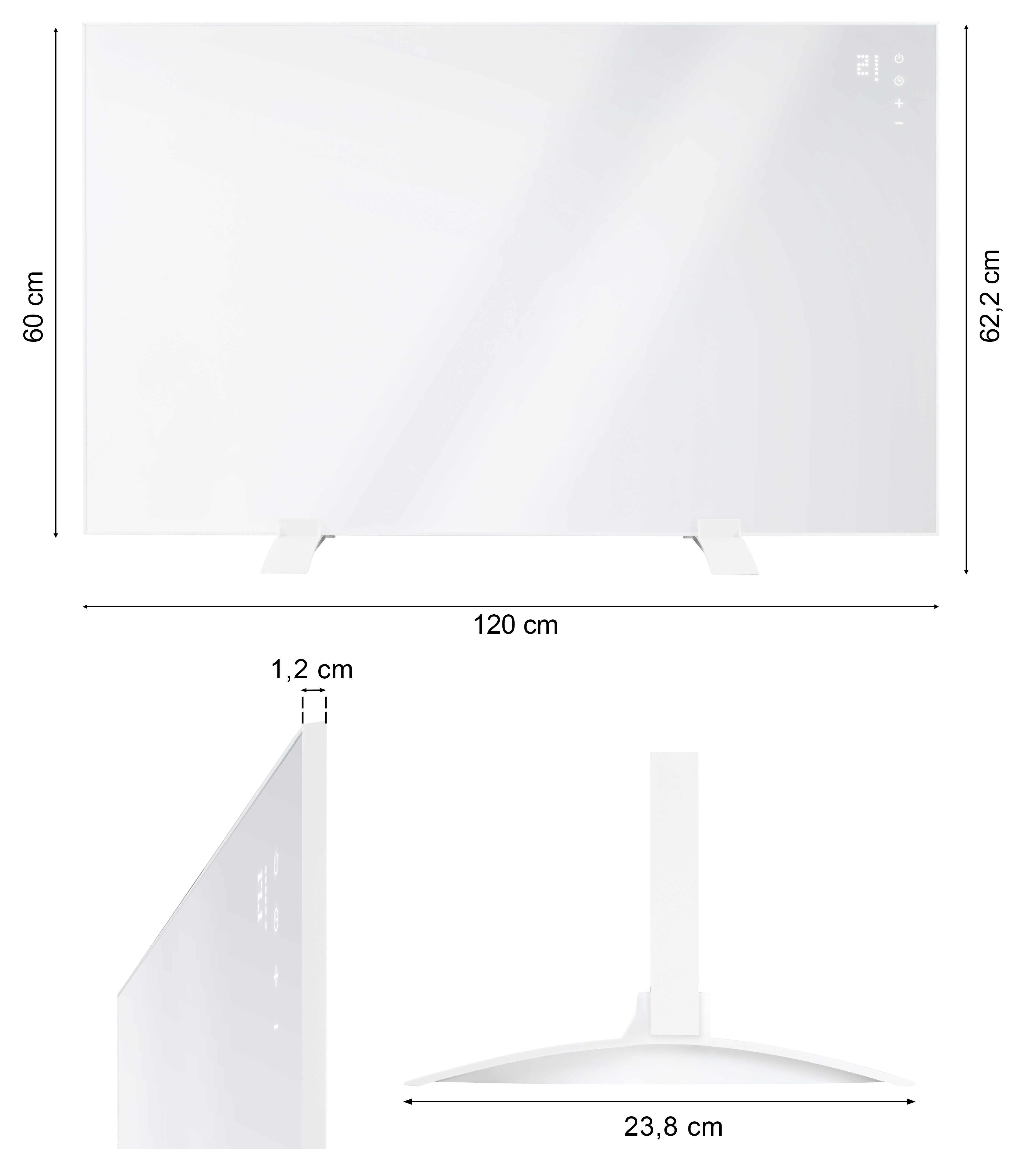 TECHNICAL SPECIFICATION
Power: 720 W
Recommended heating surface: 35 m² (assuming that the ceiling is 2,5 m)
Temperature range:0 - 37 °C
Heater type: infrared heater
Color: White
Weight: 2,9 kg (6.4 ")
Heating surface width: 1,2 cm (0.5 ")
Dimensions without feet (wall mounting): 60 x 120 x 3,9 cm (23.6 x 47.2 x 1.5 ")
Dimensions with mounted feet: 62,2 x 120 x 23,8 cm (24.5 x 47.2 x 9.4 ")
Control:touch control panel, remote control, control by Wi-Fi
Type: wall-mounted, standard
Power cord length: 1,5 m (4.9 ft)
Polish power plug: 230V, 50/60 Hz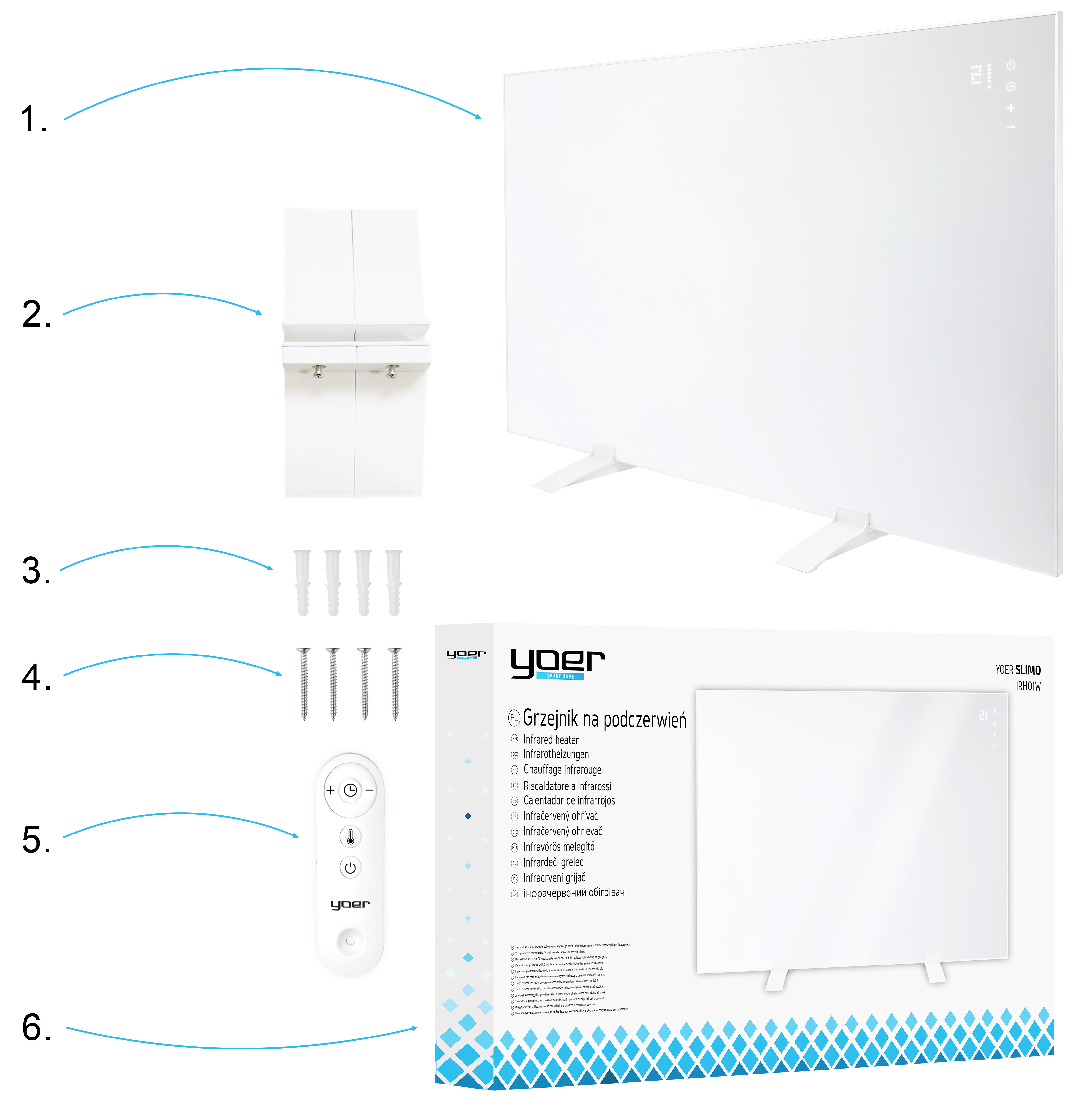 EQUIPMENT
Infrared heater
2x double feet
4 x wall plugs
4 x screws
Remote control
Original packaging
YOU WILL RECEIVE:
Heater - details above,
YOER PLATINUM SECURITY card,
Warranty card,
PL/EN Instruction manual.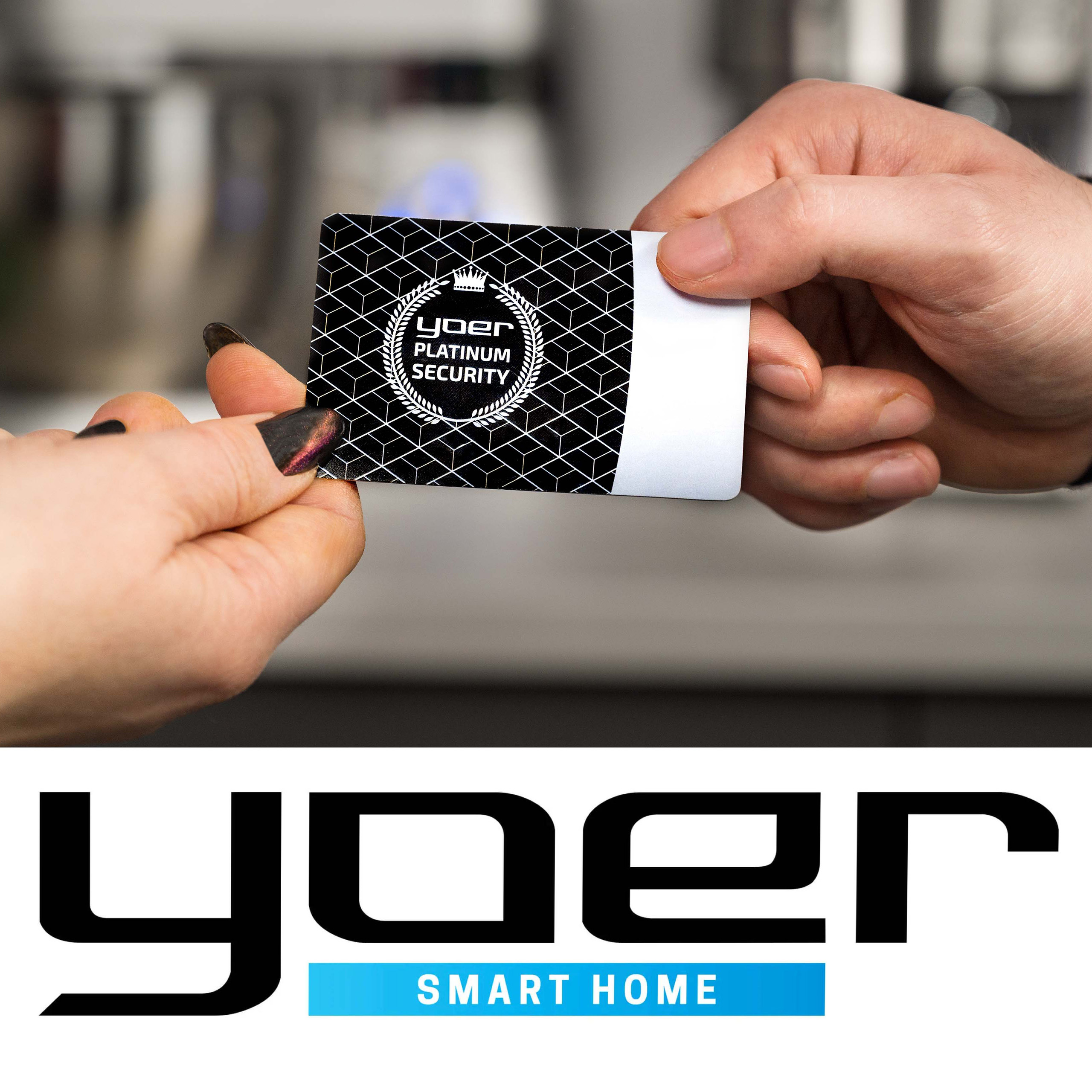 YOER PLATINUM SECURITY
When purchasing products from the official Yoer store, you receive the YOER PLATINUM SECURITY package, which is an assurance of additional protection.
YOER - POLISH MANUFACTURER AND BRAND
YOER constitutes an excellent proof that high quality of products does not necesserily go in hand with high prices.

YOER IRH01W Instruction manual- Click here